Juan Pablo Cofino, Regional Vice President, Latin America
Satellite technology and salmon farming are two concepts that do not naturally come to mind for many people. However, they've come together for Andesat, one of Intelsat's largest customers, to help farmers in Chile respond to growing global demand for salmon.
With its health benefits, there has been a dramatic rise in global consumption of salmon, placing pressure on fish farmers. To satisfy demands, farmers must raise salmon in captivity in coastal waters that are both cold enough for the fish and well protected from ocean storms. That usually means that the farm-site pontoons are in areas where fiber connectivity is limited or non-existent. And that is where satellite – specifically, Intelsat's next-generation high-throughput satellite Epic technology – comes in.
Raising salmon is a complicated and expensive venture. For the first year of their lives, salmon are raised in fresh water tanks at fish hatcheries. Once they reach maturity, they are transferred to outdoor seawater cages where they live for up to two years, with surrounding nets to keep the salmon in and
predators out. Effectively and sustainably managing these aquaculture sites requires continuous monitoring and surveillance of local conditions to maintain fish feeding efficiency, welfare and longevity.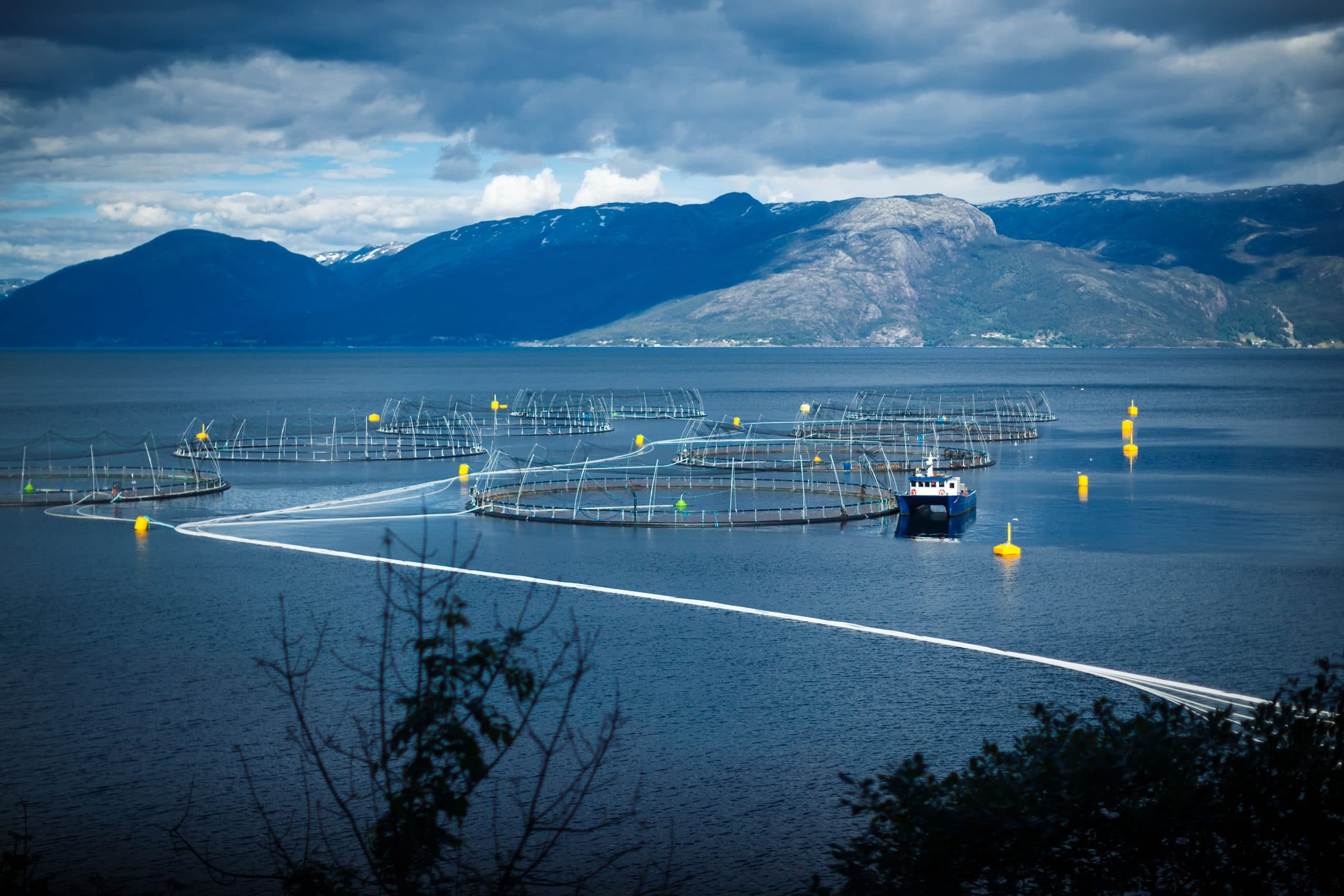 Video capture and transmission infrastructure needs to be put in place to enable farmers to track feeding levels, mitigate production errors that could harm the aquaculture ecosystem, and monitor conditions that could endanger the salmon's health as well as the security of the farm. Onsite and remote workers monitoring the farms also need to be constantly vigilant for signs of disease and parasites. In fact, the farmers are required to transmit daily compliance reports to regulatory bodies; the Chilean salmon industry is still recovering from a widespread toxic algae bloom in 2016 that killed millions of fish.
These monitoring and reporting needs flip traditional remote-site connectivity requirements. In traditional VSAT network models, most of the data is transferred from a central location to remote sites, supporting applications like Internet access, email, and voice. But aquaculture operations require the opposite. A high volume of data is generated at the farms, including water temperatures, fish health and food consumption metrics. If farmers need to support live-video feeds streaming from multiple pontoons, the amount of return traffic quickly adds up.
Andesat, a wholesale satellite service provider headquartered in Santiago, is leveraging Intelsat Epic services to address these requirements through its local company Satelnet that specializes in providing new solutions for salmon farms across the maze of islands, fjords, channels and twisting peninsulas along the coastal waters of southern Chile. Powered by the high-performance spot beams and greatly increased return-link capacity of the Intelsat 29e satellite, Satelnet has already improved the cost and efficiency of maintaining fish health and farm security.
One solution addresses an important – even if it's less glamorous – aspect of overall farm health: monitoring for parasites. A traditional approach would involve monitoring by local workers combined with paying for specialist teams to travel to the remote site to conduct inspections. Now, Andesat leverages small, Internet of Things (IoT) cameras to transmit real-time 4K UHD video from the cages to inspectors at central locations, greatly reducing the time and expense associated with a key piece of fish livelihood and farm efficiency.
Video monitoring has also improved nighttime security. Using sensors, radar, and infrared cameras, unusual activity that is detected at the site triggers cameras to automatically be repointed and an alert to be sent to farm employees. The integration of machine-driven vigilance and human oversight improves employee livelihood as well as farm security and profitability.
By incorporating Intelsat's technology into its solution, Andesat and Satelnet have increased the capacity of the return link of the network – traffic originating from the farming pontoons going to the operations center – by 50 percent without the need to change the satellite transmission hardware that was already in place. In addition, the hub-to-remote efficiency was increased as much as 123 percent, reducing the cost-per-bit to support all applications. Not only has this enabled Satelnet and its customers to improve farm efficiency and security, but better support employee welfare and connectivity. Going forward, the efficiencies generated will support the implementation of future improvements, driven by the increased ability to collect and transmit IoT data spanning the range of environments and activities across the farm.
The global market for salmon reached 3.6 million tons in 2017 and is projected by one consultancy to grow to 4.5 million tons by 2023. The higher performance and better economics delivered by Intelsat Epic will enable Andesat to expand its reach and impact within the aquaculture industry, connect to a growing number of farms, and add more pontoons to the network. With Intelsat 29e and Andesat, Chilean farmers now have the modern solutions and high-quality, flexible connectivity needed to raise salmon more efficiently and safely in this fast-growing market. Intelsat's advancements in satellite technology along with Andesat and Satelnet's integrated end-to-end services are providing critical connectivity and delivering sustainable improvements to salmon farming that will help bolster the local and regional economies. And those are concepts that pair much more naturally.
Related Posts